2face and Annie Idibia's marital crisis will not be have been this full blown and made a mess on social media if late singer, Sound Sultan were still alive.
A close source who spoke to Kemi Filani confirmed that Sound sultan played a huge role in holding the Idibia family together.
"He is the always the run to person for Annie when issues arise and he just somehow always has a way of speaking sense into her or 2baba to let peace reign. Sometimes when their fights get very heated even in the middle of the night, he will come through when he is called upon. He was a huge part to the success of the union so far, you will not understand but those who really knew them knew……Annie will miss him the most because he was the only friend that had the access to 2face's Mumu button and got him to soft pedal." our source revealed.
When the late singer, Sound Sultan passed away in July, 2021, at the age of 44, following his battle with Angioimmunoblastic T- Cell Lymphoma, Annie Idibia couldn't sleep.
Annie spent sometime off social media to mourn him and then took to her Instagram to pen down a tribute for the music star and her husband's close friend.
She wrote: Still can't sleep … Finding it hard to breath. Oh My Lanre … ..Our Lives can't be same again !"
In another post she wrote "Forever in our hearts, too good for this world"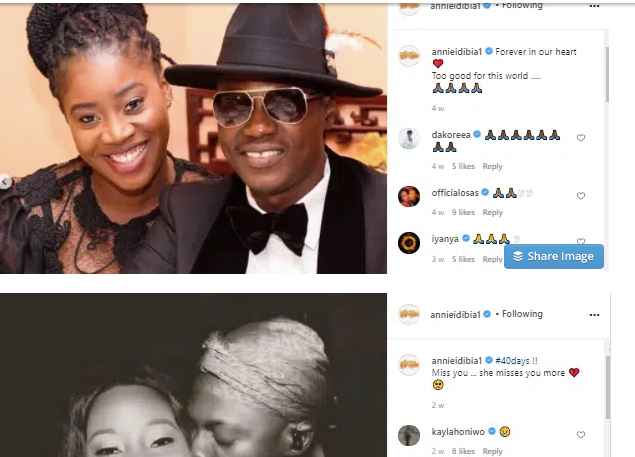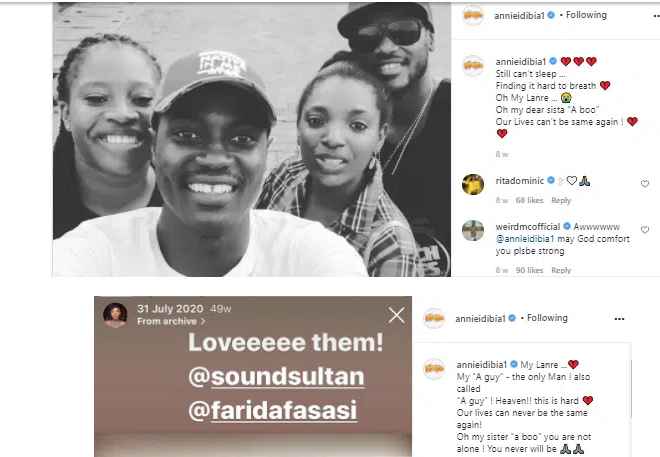 Her husband, 2face Idibia, had earlier in a post shared on Instagram said the news of Sound Sultan's death is still unreal, and he could not bring himself to write a tribute for him. He promised the deceased that his family and would be safe and live a good life.
Barely two months after his death, the first marital crisis of the Idibias was exposed on social media after Annie claimed to be exhausted and tired of 2face's disloyalty.