Comedian, Taaooma has dragged fashion designer, Yomi Casual, after his comments on the recent social media blackout on Monday.
Recall that all platforms owned by Mark Zuckerberg, which are Facebook, WhatsApp and Instagram all went down globally for hours on Monday, causing widespread panic and fears.
In fact, the outage also affected millions of businesses and content creators who depend on the platforms for their activities.
Yomi Casual, while reacting to the development on Tuesday, slammed businesses for depending so much on the platforms, and stated that people who made it without social media are special.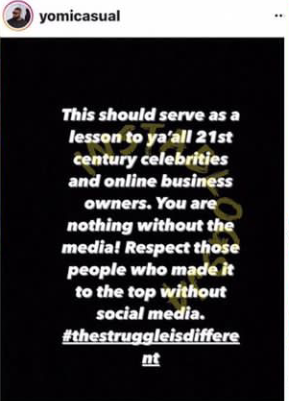 However, in a swift reply hours after his post, Taaooma has slammed Yomi Casual for saying so, while she insisted that social media made people like her and others stand out, without having to beg already established people to elevate their careers.
In her words;
"Right now, everyone is nothing without media. Big thanks to social media for giving us the chance to chase our dreams and exhibit our works without waiting on any association or some set of elites. However, those who made it when social media wasn't a thing are very lucky. Why? There was less competition, we only knew a few products, brands and people."
Read the rest of her posts below: