Gov. Babajide Sanwo-Olu of Lagos state on Tuesday finally met popular Lagos comic artist Taiwo Osinowo better known as Boda Taiye Oniyakuya, who did a funny painting of the Governor which went viral on social media a few days ago.
Sanwo-Olu sent him a response: "Really? So it's me you drew like this?
"I'm guessing you will like to present it to me in my office, abi?
"OK. Come and present it to me in my office. Hmmmmm",  Sanwo-Olu wrote.
Osinowo went on to share the governor's response on his Instagram page on Saturday as he was uncertain on whether to honour the invite.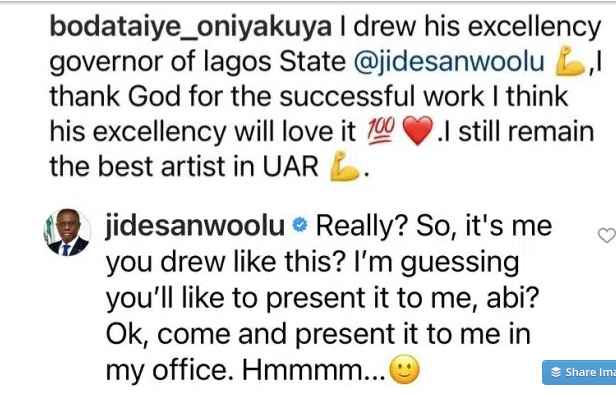 Well, Sanwo-Olu finally received the painting at the Lagos Youth Symposium event that was held at the LTV Blue Roof Agidingbi, Ikeja today.