Georgina Odafe, Naijanewstalk
Kuda Bank Nigeria, popularly known as the Bank of the Free, has been said to have incurred a loss of 6 billion naira in 2021.
This was a few days ago when Tech Cabal gained access to their financial report and published their findings.
Many customers of Kuda Bank were shocked to discover this and are worried about the future of the bank.
The unspoken question on everyone's lips is how this loss came about.
Kuda bank's recent changes
Employees lay off:
Earlier in September, reports came from unknown sources that Kuda Bank Nigeria was engaged in a layoff. They let go of five percent of their company's staff.
Which was surprising because in recent times, they had hired new staff from within and outside the country. 
Increase in Kuda's transaction charges
In August, Kuda Bank Nigeria emailed customers, notifying them that they were going to increase the cost of transactions.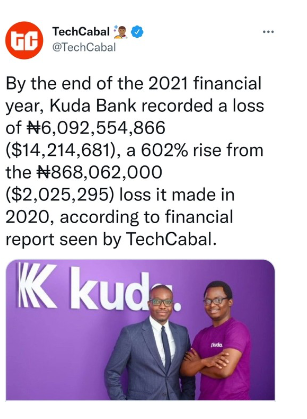 In the mail, they stated that all transactions of 10,000 naira and above would incur a cost of 50 naira. They said this was in agreement with the FG stamp duty act and was not a means of earning profits.
The irony was not lost on their customers, as Kuda Bank mostly gained popularity through their free banking policy.
The causes of Kuda bank's huge loss
The financial report of Kuda Bank, as seen by Techcabal, revealed that the three major factors below led to the $6.6 billion loss at the end of 2021
Loans and overdrafts
In March 2021, Kuda granted loans to about 2500 customers with active Kuda accounts. Within three months, they had 50,000 users taking loans and overdrafts each week.
By the end of July 2021, they had given out 20 million dollars as credit to 200,000 customers with a payment period of 30 days.
Advertisements and Promotions
The report showed Kuda had spent over one million dollars on marketing, branding, and advertising by March 2021.
Currently, they have different celebrity influencers and ambassadors promoting their business. One of these is famous movie star Erica Nlewedim, who was the first to bring in a large number of customers for the bank.
Although the promotion brought good results, as over two million registered users have downloaded the app, the expenses took a toll on their finances.
Hiring of foreign managers
Recently, Kuda Bank Nigeria hired an ex-COO of Tinker Bank in Moscow, Pavel Khristolubov, as the Chief Operating Officer for Kuda global operations. Another new employee is an ex-Revolut executive from Europe, Elena Lavezzi, as Chief Strategist to grow the business.
This hiring led to spending from 215 million naira for personnel in 2020 to well above 1.3 billion naira in 2021.
All of the above factors into Kuda's loss at the end of the 2021 financial year.
The 14.2 million dollar loss was seven times more than the one incurred in 2020, which was 2.03 million dollars, according to the financial report seen by Tech Cabal.
Despite a 4,315 percent increase in revenue from 2020 to 2021, the loss became clear after the other expenses were removed.
It is hoped that the long-term revenue generated from Kuda's customers will help as long as they don't lose most of their customers due to these recent issues.