Georgina Odafe, Naijanewstalk
The long anticipated Twitter edit feature has arrived. Now, users can edit any tweet within the first thirty minutes of publishing.
According to Twitter, users should view it as a brief duration to correct grammatical errors, add tags, and more.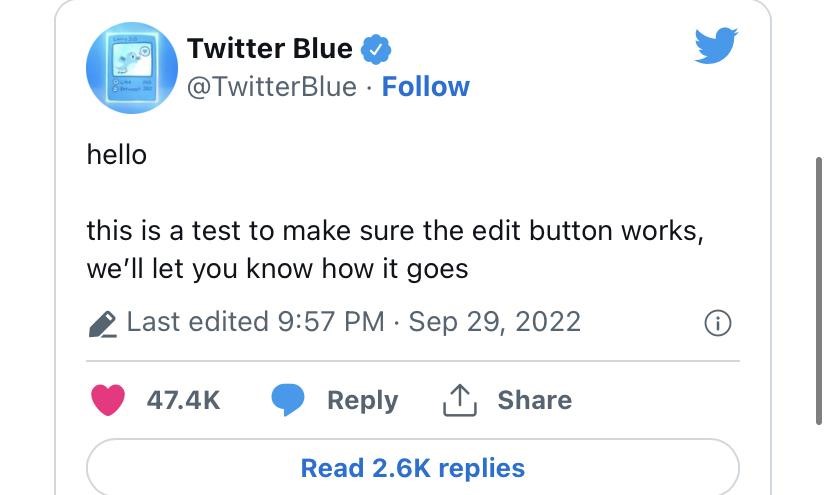 Twitter released the edit feature some weeks after they announced to their users that they were developing an edit button. 
The Twitter Blue handle made a tweet to show how the edit feature would look. "Hello, this is a test to make sure the edit button works. We'll let you know how it goes," it said.
Unfortunately for most users who were excited to test this new feature, the micro blogging company announced that only Twitter Blue users would have access to the edit button.
The edit button looks like a pencil to signify its edit function. When users edit their tweets, there will be a timestamp to show viewers that it was edited.
The label, when tapped, will direct the viewer to the tweet's history and show them the past versions of the tweet. 
"We'll be paying attention to how the new feature affects how people write, read, and engage with tweets," said the Twitter company.
Only those living in Australia, the US, Canada and New Zealand will use the new edit feature and they would have to pay a monthly premium subscription of $5. 
Twitter also mentioned that the edit button was simply being tested by their employees, and users would get an explanation on how to use the edit button soon.
Users can edit a tweet a maximum of five times, which ought to be sufficient to correct any error they might have made.
This limit was placed on the edit feature for those who might abuse the new feature.
The microblogging firm said it would monitor the behaviours of users while testing the edit feature to know if the number of edits should be increased or reduced.
Some experts have been speculating about this feature and concluded that it might be an easier means of misinformation and financial crimes.
These fears will come to light when the feature is available to everybody and used regularly.
Hence, it's premature to know if the edit button on Twitter will be a great addition or a disadvantage to the company.
Before this, Twitter's chief executive said there would never be an edit button on Twitter.
On April 1st, 2022, Twitter tweeted about developing a new feature, the edit button but later said it was a joke.
A few days later, when Elon Musk was about to buy the microblogging company, he did a Twitter poll to find out how many people wanted the edit button.
The result showed that 74 percent of the 4.5 million users wanted the edit feature.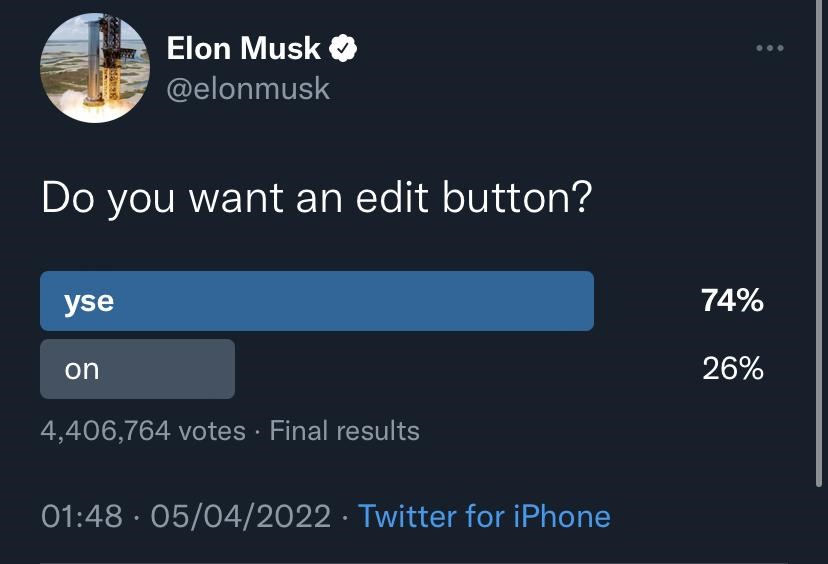 Later on, Jay Sullivan, the VP of Twitter's consumer product, clarified that they did not get the edit button idea from Elon Musk's poll.
He added that the Twitter Edit button feature has been "one of the most requested Twitter features for years."