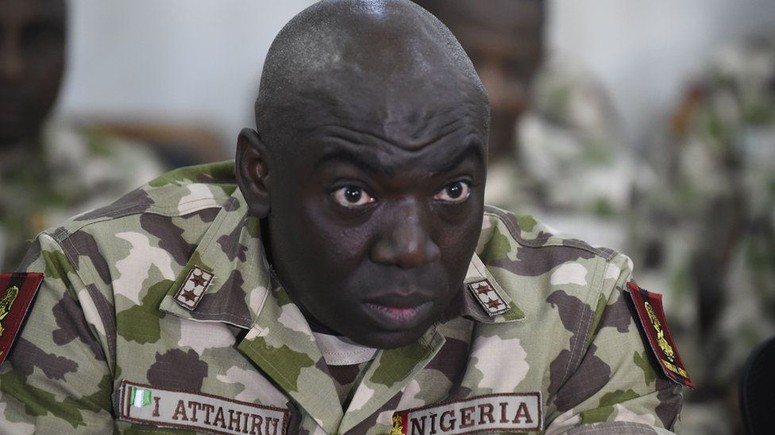 The CableNG
Ibrahim Attahiru, the new chief of army staff (COAS), was sacked as theatre commander of the joint task force (JTF) after a poor job in the fight against Boko Haram, TheCable recalls. 
In July 2017, Tukur Buratai, the outgoing COAS, gave Attahiru 40 days to deliver Boko Haram leader Abubakar Shekau dead or alive — a task thought to be "impossible".
He did not deliver Shekau — dead or alive — but the country experienced increased suicide bombings and attacks on military formations.
A senior military source, however, told TheCable that Buratai set Attahiru up to fail as JTF theatre commander when word got to him that Attahiru was being considered to replace him, as early as 2017.
The politics of replacement may have gone on for three to four years, but Attahiru has now been named the new chief of army staff.
In June 2017, barely a month after Attahiru took over, Boko Haram insurgents attacked Maiduguri, the Borno state capital.
The month after, a group of geologists and technologists from the University of Maiduguri were ambushed by Boko Haram insurgents at Magumeri area of Borno state.Advertisement
About 12 soldiers who escorted the academics were reportedly killed. Some members of staff of the Nigeria National Petroleum Corporation (NNPC) on the team were also killed in the brutal ambush.
Months after the army chief had ordered the capture of Shekau, the sect, using four female suicide bombers, attacked Muna Gari, a suburb of Maiduguri, killing about 14 persons.
In December 2017, six months after he was appointed, Attahiru was removed and deployed replaced by Rogers Nicholas, a major general who was in charge of logistics at the army headquarters.
Meanwhile, Shekau remains elusive — several years later.
ATTAHIRU: WE KILLED FIVE BOKO HARAM COMMANDERS
In his valedictory speech at the operation, Attahiru said his team killed five Boko Haram commanders and neutralised 70 terrorists while he was at the helm.
"Suffice to note that during the operations, 5 high profile BHT commanders and many foot soldiers were killed, while many other members of the group surrendered owing to the effectiveness of the operations," Attahiru said in December 2017.
"None kinetic operations were also conducted through coordinated media and information operations that led to the surrender of 72 BHT, who were immediately inducted into Operation SAFE CORRIDOR.
"Furthermore, operational support was also provided to troops of Multinational Joint Task Force (MNJTF) during Operation RAWAN KADA in June 2017, which led to the killing of over 70 BHT and the capture of assorted automatic weapons."