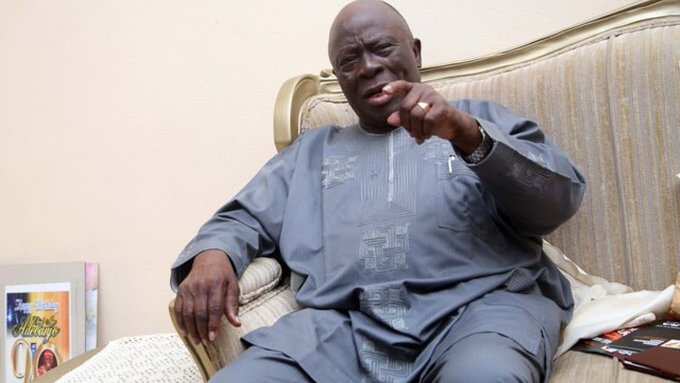 Chief Ayo Adebanjo, one of the leaders of Afenifere, a Yoruba nation socio-cultural group, has finally commented on the secessionist agitation for the Yoruba nation by some activists in the southwestern region.
In an interview with BBC Pidgin, Chief Adebanjo said the failure of the Nigerian government to protect the citizens and other issues led to the secession calls by some youths from some regions in the country.
The Yoruba leader, however, said Afenifere group does not support the agitation to divide the country.
Nevertheless, he said President Muhammadu Buhari must be ready to return di country to true federalism.
According to Adebanjo, restructuring is the only solution that can solve all the problems Nigeria is facing, including the security challenges.
The Afenifere leader further said that if President Buhari restructures Nigeria today, the secessionist agitations championed by Sunday Igboho in the southwest and Nnamdi Kanu in the southeast will stop.
Meanwhile, the Yoruba Council of Elders (YCE) has also distanced itself from the secessionist call being championed by Sunday Adeyemo, a Yoruba youth leader popularly known as Sunday Igboho.
Igboho had recently said Yoruba is no longer part of Nigeria, calling on people of the ethnic group residing in the north to go back home.
However, Kunle Olajide, the secretary-general of the YCE said Igboho does not represent the Yoruba people in his call for secession.
The presidency has also reacted to secession agitators in the country, saying nobody can bring down the government of President Buhari.
The Senior Special Assistant to the President on Media and Publicity, Garba Shehu, stated this during an interview on Channels Television on Friday, March 26.
The presidential spokesman described the secession agitators as "charlatans" sponsored to bully the president thinking he will cower or panic.
Source: Legit