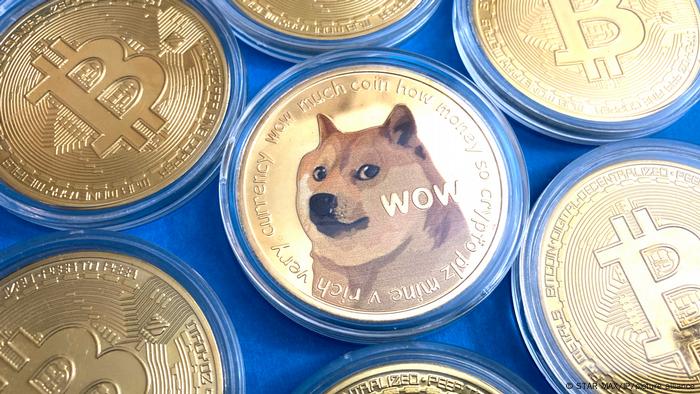 To celebrate Dogecoin's meteoric rise to fame this year, Coinbase is handing out £850,000 ($1.2million) worth of DOGE tokens this month. The popular memecoin was officially listed on the exchange's professional platform on June 3, helping revive some interest in the Shiba Inu-themed token. Coinbase customers now have a chance to jump the DOGE hype train by participating in a DOGE sweepstake – but there is a pretty big catch. Entering the sweepstakes comes with a hefty price of £70.67 ($100).
Before you proceed, keep in mind there are many risks involved in trading cryptocurrencies like DOGE.
The crypto markets are extremely volatile and there is no guarantee you will make any profit on your initial investment.
As of 3.31pm BST on Tuesday, June 8, DOGE is exchanging hands for £0.224254 ($0.317193) per token, according to the latest Coindesk data.
The memecoin, which was created in 2013 as a joke, also boasts a market capitalisation of more than £29billion ($41billion).
Here in the UK, the Financial Conduct Authority (FCA) has warned against buying cryptoassets.
READ MORE: Lloyds Bank warning on scam with devastating outcome
© GETTY Dogecoin giveaway: DOGE token
© COINBASE Dogecoin giveway on Coinbase
The FCA said: "If you invest in cryptoassets, you should be prepared to lose all your money".
You should never invest money into a stock or crypto that you are not prepared to lose.
How to take part in the Coinbase Dogecoin sweepstakes?
More than 6,000 people have a chance of winning big prizes, with the awards split between three tiers.
The top prize of a staggering £212,000 ($300,000) in DOGE tokens will go to one person.
Another 10 people have a chance of snatching up £21,200 ($30,000) in DOGE tokens.
And another 6,000 people can win a more modest £70.67 ($100) in DOGE.
The sweepstakes are going to end on June 10, 2021 at 11.59pm PT.
Coinbase said: "Dogecoin is now on Coinbase, and we're giving away $1.2million in prizes to celebrate.
"Opt in and then buy or sell $100 in DOGE on Coinbase by June 10, 2021, for your chance to win."
The sweepstakes are limited to just one entry per person and opting in multiple times "will not increase your chance of winning".
You can read more about the sweepstakes rules by clicking here.
The disclaimed states you must be a legal resident of the US and you must have a Coinbase account.
© COINDESK Dogecoin price chart on Coindesk
© GETTY Dogecoin giveaway: The Dogecoin Shiba Inu
If you fit the criteria, find out below how you can participate:
1. The first thing to is to log into your Coinbase account or sign up for one if you haven't already.
2. Once signed in, you can opt into the sweepstakes on this page.
Coinbase will send you a confirmation email within 24 hours of opting in.
3. The next step is to buy or sell £70.67 ($100) worth of DOGE before the sweepstakes end on June 10.
You can trade the full amount all at once or do so in increments.
4. Once you have signed in, opted in and traded £70.67 ($100) worth of DOGE, you will have entered the sweepstakes.
Coinbase will email you if you have won by June 17, 2021.
Dogecoin has taken the world by storm this year, thanks in no small part to South African billionaire Elon Musk.
The man behind Tesla and SpaceX has publically endorsed the memecoin on his Twitter account and has branded himself the Dogefather.
Source: MSN