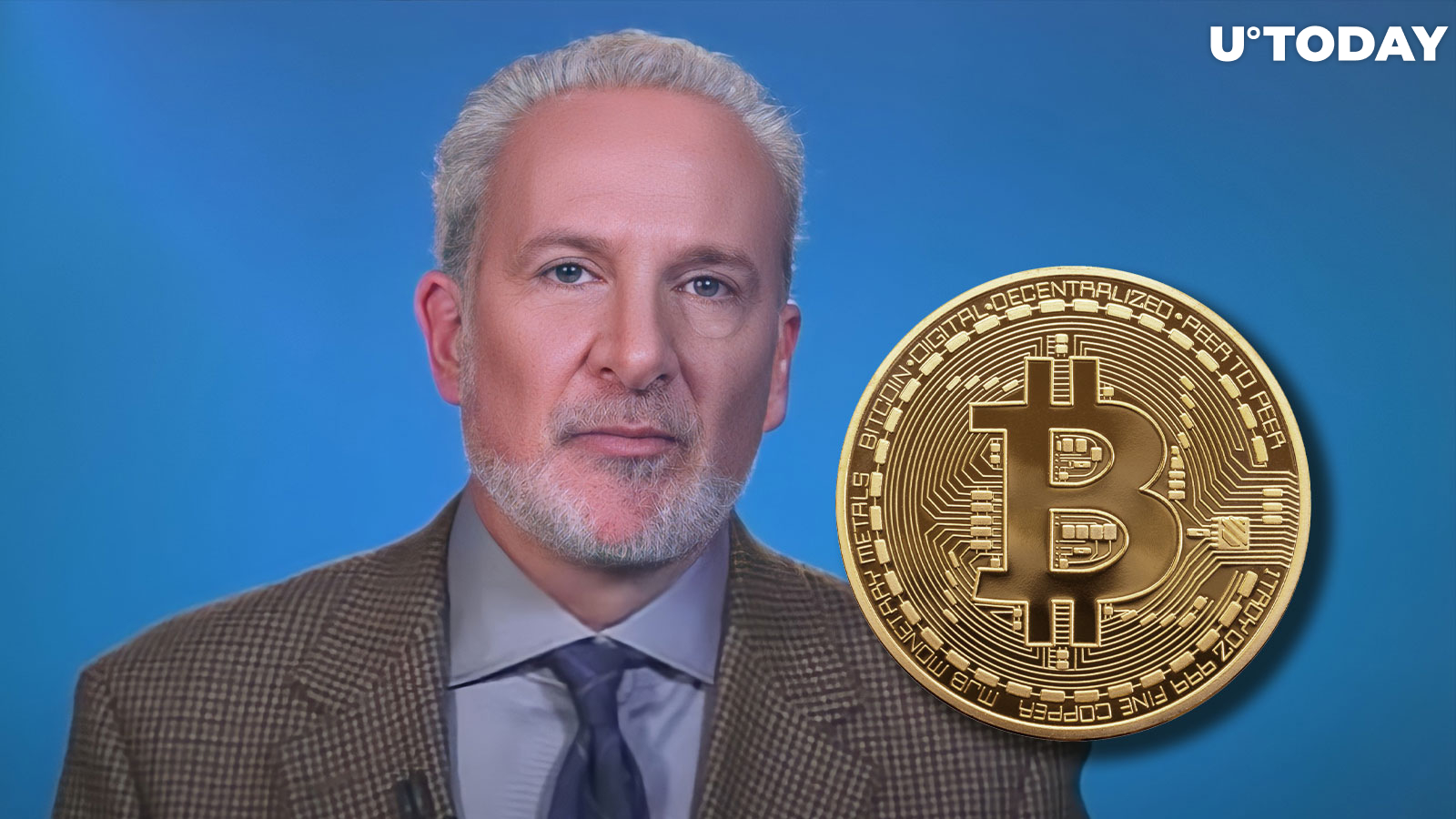 In a recent Twitter thread, gold bug Peter Schiff suggested that cryptocurrency investors should sell their Bitcoin holdings after a 30% rally in January.  The renowned economist has been vocal in his criticism of Bitcoin and other cryptocurrencies over the years.
He believes that Bitcoin is little more than a speculative asset without any real underlying value and that the cryptocurrency is doomed to fail.
Schiff also argues that Bitcoin is not real money since it cannot be reliably used as a store of value given its extreme volatility and inability to hold its worth over time. Ultimately, he sees cryptocurrencies as nothing more than an elaborate Ponzi scheme with the potential to wreak havoc on global economies. However, while he's sticking to his guns on this issue, Schiff's price predictions have been off.
One possible explanation for this discrepancy is that the gold bug's predictions are rooted in his personal beliefs rather than being based on solid evidence or research. Related Hedgeye CEO Mocks Crypto Bulls, Troubled Times Ahead? Schiff's Bitcoin price predictions have been largely inaccurate in the past. Despite this, he continues to claim that Bitcoin is an unsustainable bubble due to its volatility and its reliance on speculation for growth.
Only time will tell whether his long-term predictions will prove to be any more accurate than his previous attempts at predicting the cryptocurrency's future performance. However, it is clear that Schiff's record of forecasting Bitcoin price movements must be observed with caution if one wishes to make an informed decision based on his assumptions. The largest cryptocurrency is currently sitting slightly above the $23,000 level.
#Bitcoin Price Prediction #Peter Schiff About the author Alex Dovbnya Alex Dovbnya (aka AlexMorris) is a cryptocurrency expert, trader and journalist with extensive experience of covering everything related to the burgeoning industry — from price analysis to Blockchain disruption. Alex authored more than 1,000 stories for U.Today, CryptoComes and other fintech media outlets. He's particularly interested in regulatory trends around the globe that are shaping the future of digital assets, can be contacted at alex.dovbnya@u.today. 01/26/2023 – 00:00 Ethereum (ETH): Shanghai Hard Fork Causes Concern Among Developers, Here Are Reasons Sabrina Martins Vieira 01/25/2023 – 23:50 Solana (SOL) Reaches Important Level as Network Hits New Milestone: Crypto Market Review, Jan. 25 Arman Shirinyan 01/25/2023 – 20:46 Ripple vs. SEC: Plaintiff's Supporter Wants to Remain Anonymous Alex Dovbnya Ethereum (ETH):
Shanghai Hard Fork Causes Concern Among Developers, Here Are Reasons Facebook Twitter Telegram Copy URL Opinions Thu, 01/26/2023 – 00:00 Sabrina Martins Vieira Check out why some developers believe update should take longer to arrive on Ethereum network Cover image via U.Today Disclaimer: The opinion expressed here is not investment advice – it is provided for informational purposes only. It does not necessarily reflect the opinion of U.Today. Every investment and all trading involves risk, so you should always perform your own research prior to making decisions. We do not recommend investing money you cannot afford to lose.
Despite several challenges in 2022, the arrival of The Merge on the Ethereum (ETH) network was a notable positive event. This update marked a historic milestone for the smart contract platform, as it introduced the first fully functional blockchain utilizing a new consensus model. As we move into 2023, the Ethereum network is set to undergo further transformations, with the highly anticipated Shanghai hard fork being one of the most notable developments.
This fork aims to enhance trading capacity by releasing units of the cryptocurrency that have been staked on the Beacon Chain. Beacon Chain, introduced in December 2020, serves as a precursor to the proof-of-stake (PoS) version of Ethereum (ETH). It plays a crucial role in Ethereum 2.0, a network upgrade aimed at enhancing the scalability, security and energy efficiency of the smart contract blockchain.
In addition to increased liquidity, Shanghai has the potential to bring other benefits to the Ethereum network, such as: Greater decentralization of ETH in staking; Improved scalability; Increased security for smart contract execution. But some developers are concerned about Shanghai
The Shanghai hard fork is planned for March, and in preparation for its successful implementation, private testing began in late 2022, with public testing scheduled for February. Developers are also incorporating the EVM Object Format (EOF) to minimize potential delays during the hard fork. However, some developers have expressed concerns about the timing of the update, stating that it may be rolling out too quickly without fully considering the long-term technical debts that could have a lasting impact on the network in the years and decades to come.
Technical debt, in the context of software development, refers to a set of issues and deferred commitments that a team accumulates over time. This debt can include things like complex code, inadequate documentation, insufficient testing and other code quality issues. These problems are often the result of the pressure to quickly deliver new features without considering their long-term maintenance costs.
This can have a detrimental effect on Ethereum and its users, as the altcoin serves as the primary protocol for decentralized applications. Ethereum developers are currently discussing the potential use of a new method called SSZ to encode Ethereum withdrawals, as opposed to the current method, RLP.
This is due to concerns that using the old method could lead to issues in the future. While this discussion may seem complex to those without technical knowledge, it could have implications for how developers work with Ethereum in the future.
It is worth noting that this discussion is being led by a small group of developers, and it is likely that the discussion will not be adopted and the Shanghai hard fork will proceed as planned in March. A delay in this update could have a negative impact on Ethereum's capitalization.