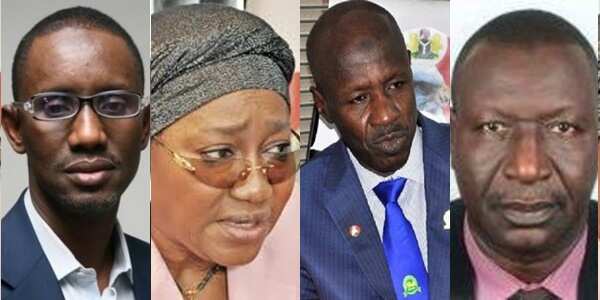 LegitNG
President Muhammadu Buhari on Tuesday, February 16, forwarded the name of Abdulrasheed Bawa to the Senate as Nigeria's new anti-corruption czar after months of intrigues and dramas bringing to an inglorious end the tenure of Ibrahim Magu.
Bawa, a 40-year-old trained EFCC prosecutor, was appointed the substantive chairman of the Economic and Financial Crimes Commission (EFCC) in a letter addressed to the Nigerian Senate.
President Buhari directed the upper chamber, as a matter of constitutional urgency, to confirm Bawa, saying he is "acting in accordance with Paragraph 2(3) of Part1, CAP E1 of EFCC Act 2004."
As the country awaits the new poster boy of the country's most formidable anti-corruption institution, Legit.ng has compiled a list of men who have headed the EFCC and the regions they come from.
Abdulrasheed Bawa will take over as the EFCC chairman, becoming the 6th man to head the anti-graft agency. Credit: EFCC website Source: UGC
It should be, however, noted that since the commission was created in 2003 under the Establishment Act 2004 by the Olusegun Obasanjo's administration, no southerner has headed it.
Abdulrasheed Bawa: Anxiety as EFCC speaks on corruption allegation against Magu's successor Besides, it has only produced a female head in the person of Madam Farida Waziri.
1. Nuhu Ribadu (2003 – 2007)
Lawyer and astute police officer Ribadu was the pioneer chairman of the EFCC. He was appointed in 2003 to head the agency by the Obasanjo/Atiku regime.
Under Ribadu, the EFCC addressed various financial crimes, prosecuted and convicted a number of high-profile corrupt individuals ranging from Nigeria's former chief law enforcement officer to several bank chief executives.
By 2005, the EFCC arrested government officials including, Diepreye Alamieyeseigha and a very influential daughter of the former Nigerian president, Senator Iyabo Obasanjo-Bello for receiving N10 million ($100,000), stolen from the Ministry of Health. 60-year-old Ribadu's regime, however, ended in shamble as the Adamawa chieftain went into exile until 2010 when he returned to Nigeria and declared his intention to run for president of Nigeria in the Action Congress of Nigeria (ACN)
Anti-corruption group says Bawa is the best thing to happen to EFCC
2. Farida Waziri (2008 – 2011) 
Nigerian technocrat and law enforcement officer Farida Mzamber Waziri (now 71 years) took over as the head of the EFCC in 2008 after the inglorious end of Ribadu's reign.
She was appointed by former and late president Umar Musa Yar'adua though she refused to accept the position until she had also been confirmed by the Senate.
Among notable people convicted during her tenure was the former national deputy chairman of the Peoples Democratic Party (PDP) Chief Bode George.
Waziri was removed from her position by former president Goodluck Jonathan on November 23, 2011, amid a whirlpool of allegations.
3. Ibrahim Lamorde (2011 – 2015)
Ibrahim Lamorde took over from Waziri as the EFCC boss in 2011 before he was eventually confirmed by the Senate on February 15, 2012.
The now 58-year-old former police officer was sacked by President Buhari on November 9, 2015, with Ibrahim Magu taking over as the new EFCC chairman.
New sheriff in town: 5 amazing facts about Magu's successor as EFCC boss Abdulrasheed Bawa 4. Ibrahim Magu (2015 – 2020) Magu ascended the throne in 2015 following the removal of Lamorde and gave the anti-graft commission a renewed confidence and fear.
He, however, remains unconfirmed as the chairman of EFFC after his nomination was rejected by the Senate.
During his tenure, Magu stepped on toes and was arrested for corruption charges related to finances following minister of justice Abubakar Malami's memo to President Buhari indicting the anti-graft czar.
Magu was suspended on July 7, 2020, following the commencement of the investigation by a special presidential panel headed by a retired appeal court judge, Justice Ayo Salami.
He was finally removed with Buhari failing to disclose the outcome of the Salami-led panel's investigation.
5. Mohammed Umar Abba (acting 2020 – 2021)
With Magu caught in the hook of 'powers that be' in the country, Mohammed Abba was appointed as the new leader of EFCC by the president – albeit in an acting capacity.
Buhari asks Senate to confirm 40-year-old Bawa as EFCC boss He hails from Tudun Wada local government Area of Kano.
6. Abdulrasheed Bawa (2021- till date) 40-year-old
Bawa was announced as the new EFCC boss on Tuesday by President Buhari in a letter to the Senate.
The incoming EFCC boss Bawa holds a B.Sc degree in Economics. He also holds a Masters in International Affairs and Diplomacy.
Bawa is an intrepid investigator for the EFCC vast experience in the investigation and prosecution of Advance Fee Fraud cases, official corruption, bank fraud, money laundering, and other economic crimes."
EFCC chairmen by regions
North East – 3
North West -2
North Central -1
Others – 0