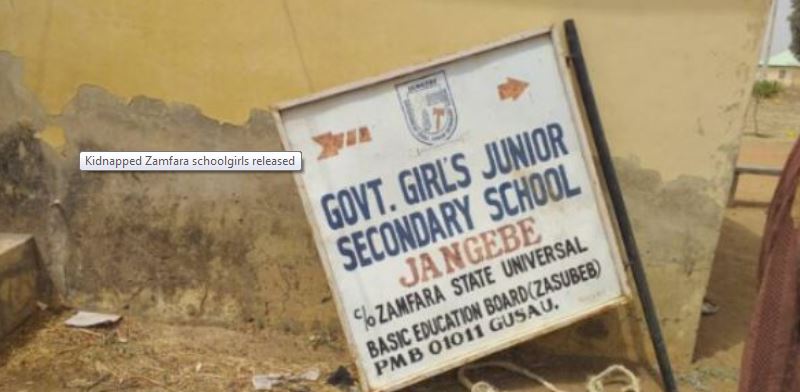 John Great, NaijaNewsTalk
Reports coming into the Naija News Talk desk say that the recent Zamfara kidnapping might have come to a resolution, as the schoolgirls from Government Secondary School in Jangebe, Zamfara State have been set free, and are currently taking shelter in the palace of the Emir of Anka while awaiting transportation to the state capital, Gusau.
The PUNCH reports that 'a very competent source' had reported that talks with the bandits who kidnapped the girls had gotten to a very advanced stage, saying "they may be in Gusau today."
The girls according to a source, were kept in a forest between Sabon Birnin Bananga and Danguibi, located in Maru Local Government Area of Zamfara.
Zamfara Kidnapping
The Zamfara kidnapping occurred on Friday the 26th of February, and was carried out, according to reports, by a group of bandits who were disguised as security personnel.
There have been series of recent mass kidnappings by bandits in Northern Nigeria, ostensibly for ransom.
Reports are still coming in as to the exact location of the kidnapped school girls, and the exact time of their release.
Opposing Reports
However, the BBC in an opposing report, says that the Zamfara State Commissioner for Security and home affairs, Abubakar Dauran has countered the reports of the freeing of the schoolgirls, saying they are still under the bandits' custody, and that the state government is trying to secure their release.
Also, the BBC reports that the Zamfara State Police PRO, Mohammed Shehu, has said the police command is not aware of the release of the schoolgirls from the Zamfara kidnapping.
The true state of affairs thus remains elusive.
There have been varied reactions from all around the world on the Zamfara kidnapping of the schoolgirls.
The charity Save the Children said it was "horrified" about the news of the abductions. "It is unacceptable that attacks on schools and students has become a recurring scenario in Northern Nigeria. These attack … puts (them) at risk of never returning to school, as they or their parents think it's too dangerous." Mercy Gichuhi, the Save the Children's Nigeria director, said.
On its own, Amnesty International Nigeria said the kidnappings were "a serious violation of international humanitarian law".
"Nigerian authorities must take all measures to return them to safety, along with all children currently under the custody of armed groups," the human rights group said via Twitter.