Or see a detailed guide below and start your trade.
Step 1
Log in to Binance app
If you already have a Binance account, click "Log in" and go to Step 4
If you do not have a Binance account yet, click "Register" on the top left
Step 2
Enter your email on the registration page and set your login password. Read the Binance P2P terms and click on the arrow to register.
Step 3
Enter your email and password, then click on the arrow to Log In.
Step 4
After you log in to the Binance app, click the user icon on the top left to complete identity verification. Then click "Payment Methods" to complete SMS authentication and set your payment methods.
Step 5
Go to the home page, click "P2P Trading".
On the P2P page, click the (1) "Buy" tab and the crypto you want to buy (2) (taking USDT for example), and then select an ad and click (3) "Buy".
Step 6
Enter the quantity you want to buy, confirm the seller's payment method(s), and click "Buy USDT".
Step 7
Transfer the money directly to the seller based on the seller's payment information provided within the payment time limit, and then click "Transfer the fund". Tap on the payment method you transferred to, the click "Transferred, next"
Note: Setting payment method on Binance does not mean that the payment will go directly to the seller's account if you click "Transferred , next" . You need to complete the payment directly to the seller through bank transfer, or another third-party payment platform based on the seller's payment information provided.
Step 8
The status will be "Releasing".
Once the seller has released the cryptocurrency, the transaction is completed. You can click "Transfer to Spot Wallet" to transfer the digital assets to your Spot Wallet.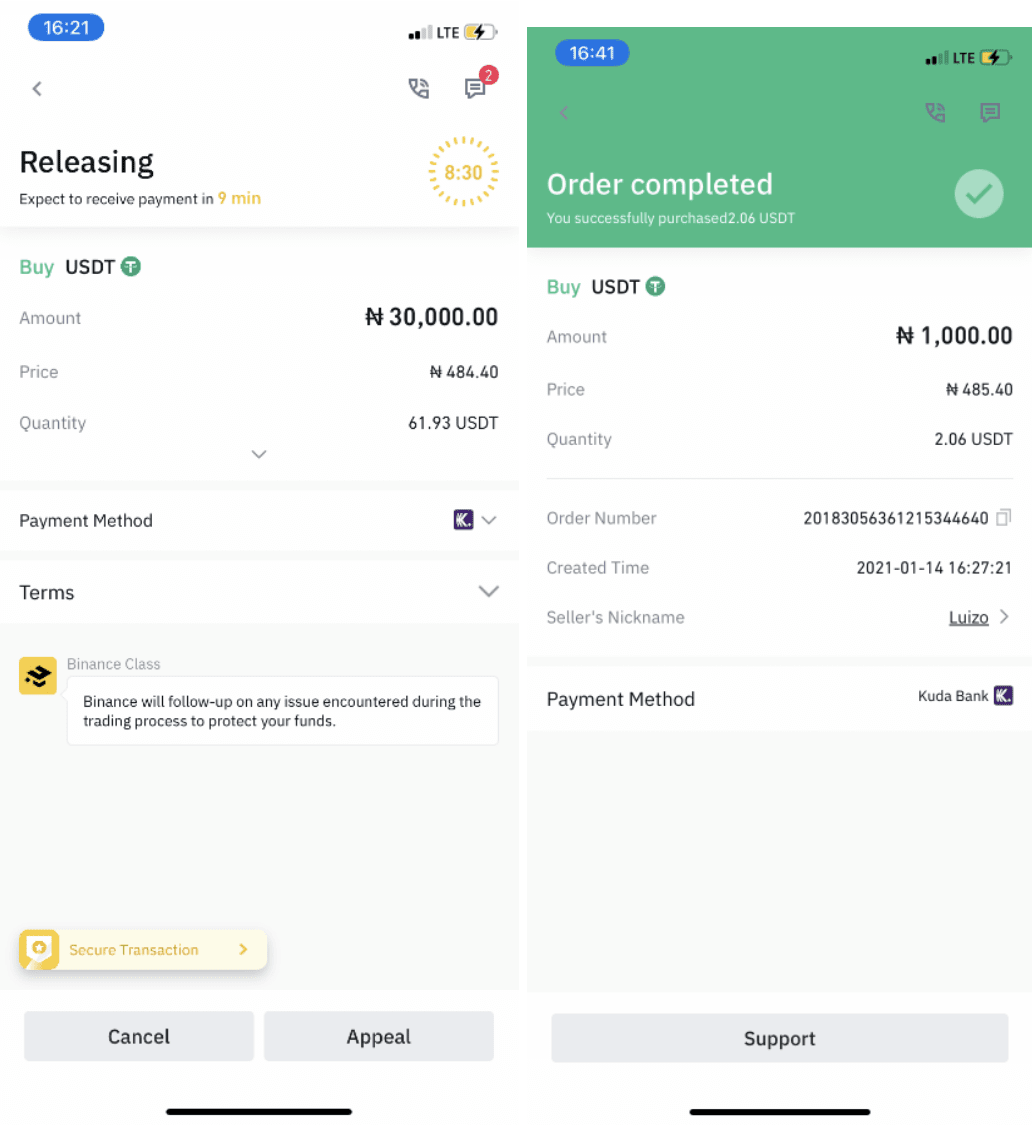 You can click "Wallet" at the bottom and then "Fiat" to check the crypto you bought in your fiat wallet. You can also click "Transfer" and transfer the cryptocurrency to your spot wallet for trading.
Note :
If you do not receive the cryptocurrency 15 minutes after clicking "Transferred, next", you can contact the seller by clicking the "Phone" or "Chat" icon on the top.
Or you can click "Appeal", select a "Reason for Appeal", and "Upload Proof". Our customer support team will assist you in processing the order.
1. You can only buy or sell BTC, ETH, BNB, USDT, EOS and BUSD on Binance P2P currently. If you would like to trade other cryptos, please trade at the spot market.
2. If you have any questions or complaints, please contact our customer support team.
Binance