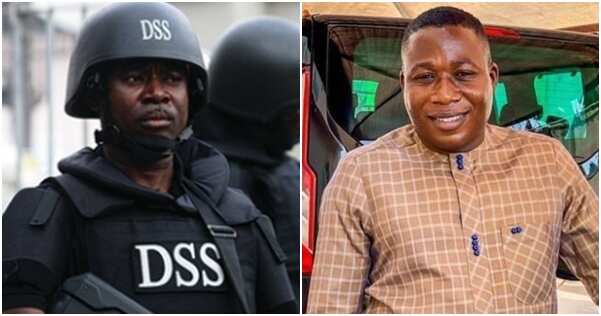 The federal government has been urged to prosecute the acclaimed Yoruba activist, Sunday Igboho, for an alleged attack on the settlement of the Sarikin Fulani of Igangan, Alhaji Salihu AbdulKadir.
The demand was made by Gan Allah Fulani Development Association (GADFAN), in a statement after its officials paid a solidarity visit to Alhaji Salihu in Ilorin, Kwara State, The Punch reported.
The association said:
"The GADFAN, therefore, calls on the federal and Oyo state governments to ensure that justice is done to Alhaji Salihu AbdulKadir and his people by way of not only ensuring that Igboho and his boys are apprehended and brought to book, but that Sarkin Fulani and his people be compensated and returned to their homes."
The Guardian reported that GADFAN also asked for the federal and the Oyo state governments to compensate the Sarkin Fulani for all the loss he and his people suffered during the alleged attack.
The group said it will take legal steps to unsure justice is done over the matter if the government fails to take action.
Meanwhile, the Yoruba Council of Elders (YCE) has distanced itself from the secessionist call being championed by Sunday Adeyemo, a Yoruba youth leader popularly known as Sunday Igboho.
Igboho had recently said Yoruba is no longer part of Nigeria, calling on people of the ethnic group residing in the north to go back home.
However, Kunle Olajide, the secretary-general of the YCE said Igboho does not represent the Yoruba people in his call for secession, The Cable reported.
In another news, a human rights lawyer, Femi Falana, has advised the federal government not to arrest a Yoruba activist, Sunday Igboho.
Falana in a statement on Sunday, April 4, said the federal government should address pressing issues such as the worsening insecurity in the country instead of seeking to detain the activist, The Punch reported.
Source: Legit